The Bellas are getting bold!
Nikki Bella and Brie Bella are known for their candor, but in this Total Bellas bonus clip, the twins prove just how open they are, even when it comes to the most intimate parts of their lives. 
In the bonus scene, Nikki and Brie are onstage at a live show for The Bellas Podcast when they decide to engage in an unfiltered Q&A segment—despite the fact that their mom, Kathy Colace, is in the audience.
One fan gets straight to the point, asking the twins, "How often do you guys get freaky in bed?"
Brie's husband Daniel Bryan was already onstage, but after this question, Nikki yells for Artem Chigvintsev to join them. When he does, she hops on his lap and gives a sultry answer!
"Artem and I, we have an amazing sex life," Nikki says. "When they say dancers are the best, let me tell you…He just moves those hips. And once you have a dancer, you don't go back! That's it."
As the crowd goes wild, Nikki continues, "Legit, we went two weeks without having sex and it kind of made me, like, angry. Like, you know how you get hangry? I get hangry."
Brie's answer seems as though it's going to a bit more PG, but that's not the case!
"You know what mom life is like?" she asks the audience. "A kid making noise, waking you up when you're making out and getting right there."
After Nikki chimes in—saying that's why she's not a mom; so she can feed her "hunger"—Brie explains that on Wednesdays, Bryan tends to return home at 8 p.m.
"So Wednesdays at 8 p.m., if you're having a cocktail, be like, 'Wow, Brie and Bryan are boning right now,'" she says, sending Bryan into a laughing fit.
Watch the entire LOL-worthy clip above! Also, you can take a closer look at Brie and Nikki's candid thoughts on sex by scrolling through images below.
Instagram
When the Mood Strikes…

There's no such thing as TMI for The Bella Twins.
Case in point: In March 2020, Nikki told The Bellas Podcast guest Vanessa Lachey all about how her sex life had changed since getting pregnant. Due to changing hormones and construction, the Belle Radici co-founder declared that her sexy time with Artem was "so on and off."
"Our sex life goes so on and off. And I don't know if it's me," Nikki said. "I will admit, last night it was the first time that I told him, 'Hey, can you massage my boobs?'" she detailed. "And then I pushed the hand lower and was like, 'Can you massage down there, too? Thanks.'"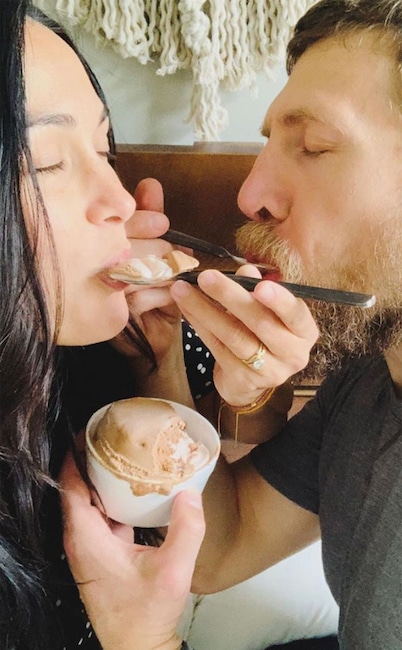 Instagram
A Different Kind of Happy Hour

Although Brie and Bryan are parents, that doesn't stop them from enjoying alone time.
"Bryan comes home Wednesday and we have sex around 8 p.m. So Wednesdays at 8 p.m., if you're having a cocktail, be like, 'Wow, Brie and Bryan are boning right now!'" Brie joked during an October 2019 episode of The Bellas Podcast.
Scheduled sex is still sex! Enjoy your alone time, you two.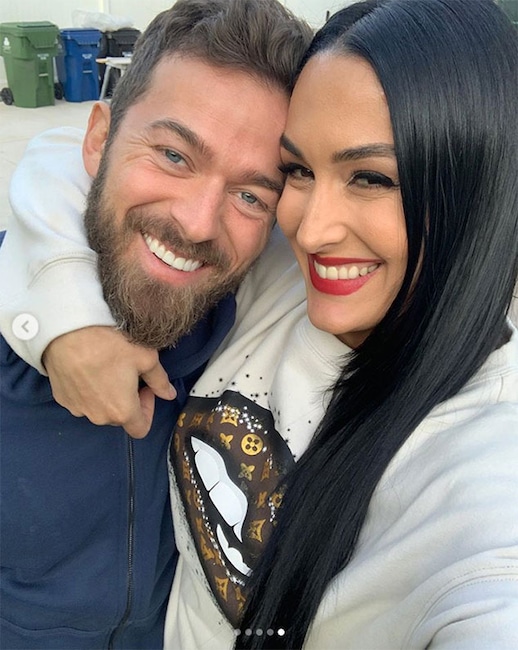 Instagram
Once You Go Dancer, You Never Go Back

During an October 2019 episode of The Bellas Podcast, Nikki boasted about her "amazing sex life" with love Artem.
"When they say dancers are the best, let me tell ya: Once you have a dancer, you don't go back. That's it," she gushed about the former Dancing with the Stars pro. "If he leaves me, I'm going to the ballet every night because that's that!"
She even revealed that the professional dancer "moves those hips" while naked.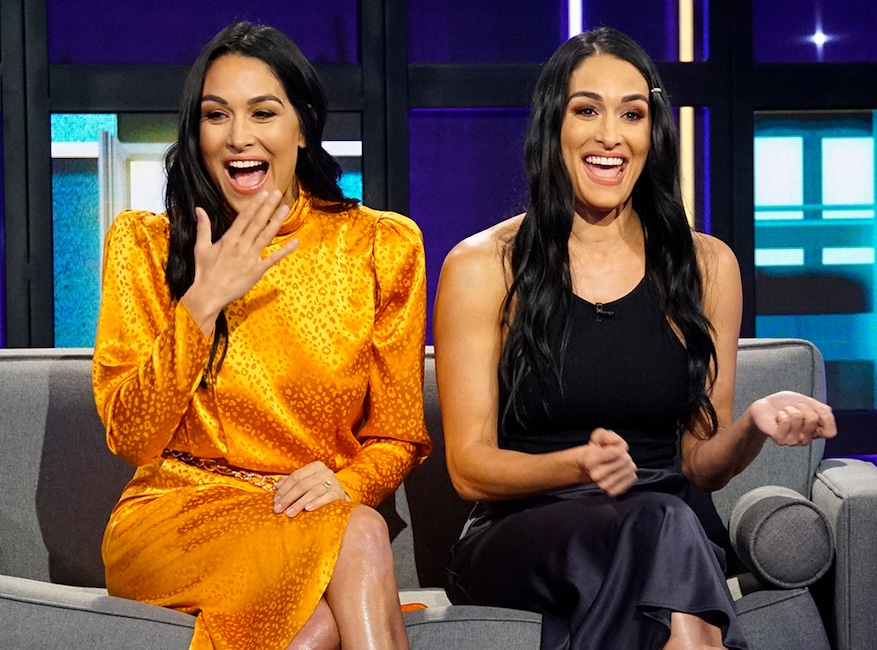 Scott Angelheart/NBC/NBCU Photo Bank
Public Bathroom Sex

They did what, where?
In 2019, Brie and Nikki joined Access Hollywood's Sibley Scoles for a round of "Roller Coaster Confessions." While riding Jurassic World: The Ride at Universal Studios Hollywood, the famous twins revealed the wildest place they've had sex.
And, surprisingly, they had similar answers.
"I would say a public bathroom on the sink," Nikki declared.
"Oh my gosh, I did a public bathroom one time too," Brie added.
The more you know!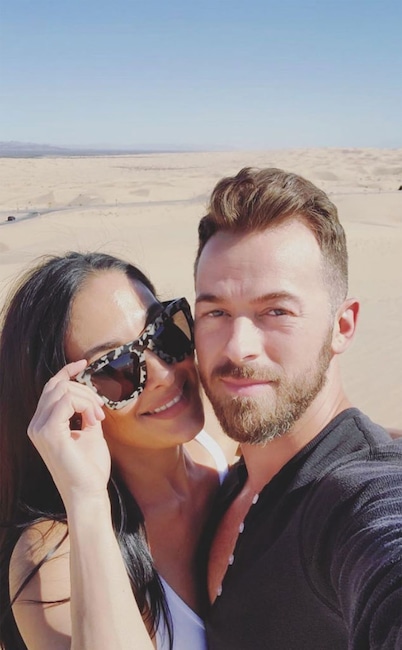 Instagram
Before They Were Official

Before defining their relationship, Nikki and Artem were enjoying each other's company both in and out of the bedroom. In fact, for an April 2019 episode of their podcast, Nikki shared that Artem was an "amazing lover" with "graceful legs."
Unfortunately, Artem's fit frame had Nikki feeling a bit self-conscious, especially about her thighs.
"And can you imagine when I'm on top? That I'm gonna save for a whole other episode. Thighs galore, girl," she added.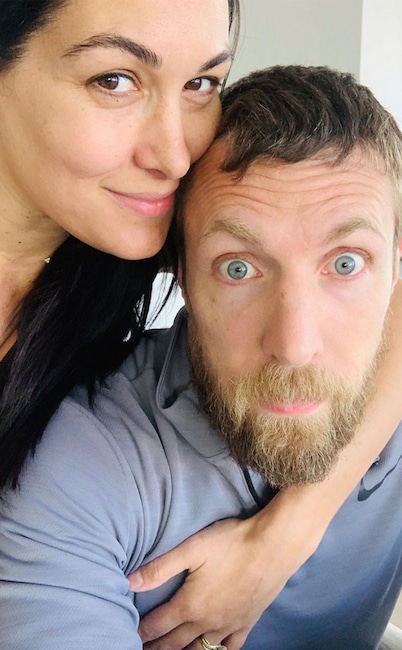 Instagram
The Pull-Out Method

During a 2015 episode of Total Divas, Brie shocked Nikki with news that she and husband Bryan only use the "pull-out method" during sex.
"When you're married you do not use condoms, c'mon," Brie remarked during a grocery store outing. "Birth control is putting chemicals in your body, condoms—we are married—so Bryan and I do it the old fashion way…the pull-out method."
"You're joking me, right?" Nikki responded.
At the time, Nikki was merely concerned about what an unplanned baby would do to their careers.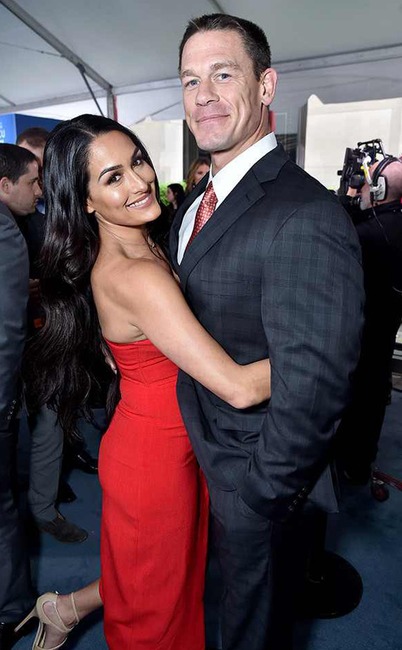 Theo Wargo/NBCUniversal
Talk About a Trainwreck

It's no secret that Nikki Bella wasn't the biggest fan of ex John Cena's awkward bedroom scene in Amy Schumer's hit comedy, Trainwreck. However, in an episode of Total Bellas, the retired WWE superstar revealed that the sex scene had an affect on her libido.
"Imagine watching your man do a sex scene and have the whole world see his big butt," she said at the time. "You know you get visuals. I swear I couldn't masturbate forever because I just think of the sex scene."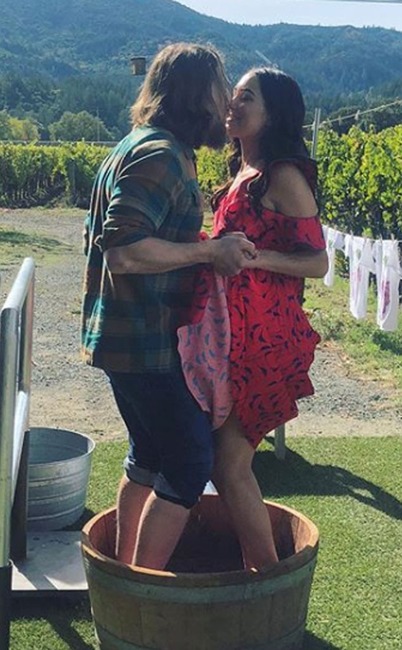 Instagram
Brie's "Sex Process"

During a 2016 episode of Total Bellas, Brie revealed how she arranges her bedroom to get herself and Bryan in the mood. Per the Total Bellas star, it's all about the candles!
"So…because…when…Bryan and I like to light candles," Brie teased to Nikki.
"Oh wait, are you going through your sex process with me right now?" Nikki asked. "This is not why I came in here by the way."
"I know but I'm showing you," Brie replied.
At another point in the episode, Bryan made it clear that he likes "candles" and "music" as it helps him relax.
Do you have a favorite Bella Twins moment? Be sure to let us know!
Watch a brand new episode of Total Bellas Thursday at 9 p.m., only on E!
var fbstarttime = new Date(); !function(f,b,e,v,n,t,s) { if (f.fbq) return; n = f.fbq = function() { n.callMethod? n.callMethod.apply(n,arguments):n.queue.push(arguments) }; if (!f._fbq) f._fbq = n; n.push = n; n.loaded =! 0; n.version = '2.0'; n.queue = []; t = b.createElement(e); t.async =! 0; t.src = v; s = b.getElementsByTagName(e)[0]; s.parentNode.insertBefore(t, s); }(window, document, 'script', 'https://connect.facebook.net/en_US/fbevents.js');
fbq('init', '1611373942516879'); fbq('track', 'PageView');
var fbendtime = new Date();



Source link